The news fell yesterday afternoon, after a week's long painful wait to hear the final judgement from the legal battle between the MTC vs MPL. The Hon A. Narain court decision was not in favor of the MTC, and they lost the control of the Champ De Mars, here, the judgement from the Judge A. Narain – MTC-v-MPL.
And the reply of the MTC/MTCSL: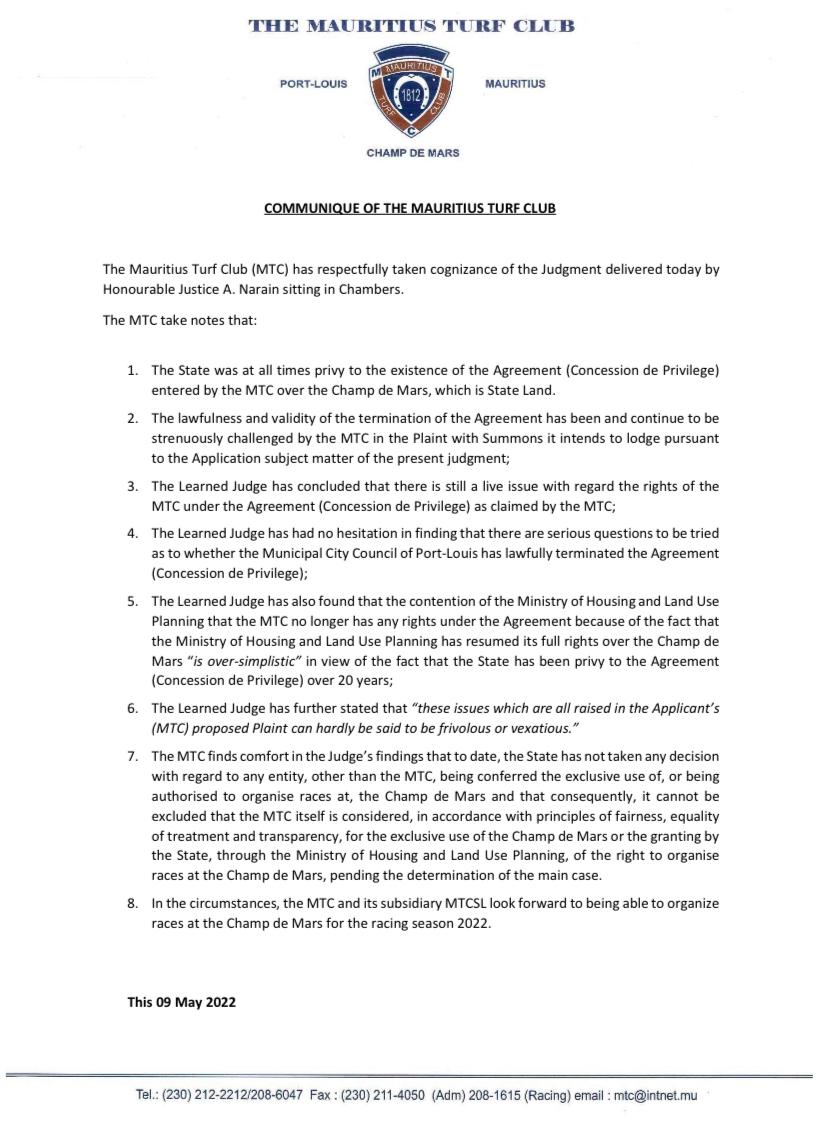 Monday 9th May 2022 will forever be remembered as the death of 210 years of Mauritius horse racing and the premeditated execution of the Mauritius Turf Club – MTC and its public company the MTCSL.
Short after this information came public knowledge on social media, we received a WhatsApp message that the head of the trainer's association Mr Patrick Merven sent to all trainers, which stated that the MTC/MTCSL will not be in a position to provide them with their stables grooms, that they will have to bear this additional cost as the MTC/MTCSL does not have a horse racing license, and subsequently is no longer the horse racing organiser and therefore they cannot issue licences as a result from losing the Champ De Mars racetrack to the Municipality of Port Louis.
Mr Merven signed: "A sad day for racing and trainers."
It is not a sad day, but a scandalous day which all Mauritians, all the MTC members, Trainers, and the Champ De Mars horse racing fans, bookmakers and, all that worked in the Champ De Mars had a small enterprise there each race meeting, with their gaming outlets, shops and food snacks all these business owners should all be fighting together to save the MTC/MTCSL, and keep our Champs De Mars as we always had it.
We all know of the betting magnate plans to acquire and develop the inside of the racetrack, yes it is a must but why not have done this together with the MTC/MTCSL? Why try steal, and worst kill such an iconic and the sole horse racing pioneer in Mauritius?
The MTC Presidents comes and go, as of writing of this article we just read online and got news that all the Trainers have asked the President to step down or they will. Will Mr Giraud resign is the question?
If he does, this will be another blow to the MTC/MTCSL which will lose a die hard sport and horse racing president who thought hard to keep the integrity of the club and save the last paintings on the walls from an hostile hostage BAI bis repetita take over. For those who are not sure what is the BAI – The British American Group of Mr Dawood Rawat and the theft of the century from a government who called it a Ponzi scheme. There are enough articles online and ink written on newspapers on this another scandal. This is how a government stole a Bank, an Insurance company and a Private Hospital, a Car Dealership with multiple over businesses and sold all for peanuts to all their most loyal public servants and, they of course nationalised the Bank and the Insurance company and kept the assets for them. Leaving behind a man entire life work, networth and family name tarnished forever in the name of what some are saying was not a Ponzi scheme but an hostile take down.
Well, the same scenario is happening before our very own eyes. They want like Mr Giraud said on a TV show last week to nationalise horse racing in Mauritius and they probably have already succeeded when we read all the recent progress they have made:
1-Given a letter of intent to a second horse organiser The People's Turf with zero horse racing experience and who came on the media temple show to explain his plans and convince everyone he was not backed by the betting magnate.
2- Created a private company with the ministry of Finance as their address for a second racecourse in Mauritius
3- Saying that tenders are coming soon for an online betting which the Mauritians can't play, but they saying it will be only for outsiders / foreigners to play as it is illegal to bet online so they say.
Illegal for us but not for them. Just like the Bet365 scandal which involved an ex- minister where they were caught bending the rules and laundering huge sums of tax payers money. Well, if you are not aware the internet is free, and there is no way you can stop people from writing, reading or betting online. Just another scandal, shall we remain on the current one?
What you will read below will shock some of you, but here we are used to these scandals, they use to happen once a year, but we are accustomed now and they are now not monthly, but daily scandals happening here in Mauritius.
Their levels of incompetence even at cheating legally is very bad and they are not very well planned if you ask us.
If you wanted to steal someone property or wanted so bad to challenge them in that same field which happens in everyday normal business life, someone has a product which sells, someone else comes and copy his trademark, steal his supplier, calls it virtually the same brand. And we are speaking from experience with our own brands, well this is only possible here on the island of Mauritius.
So, if you wanted to do all the above in the horse racing field and you had zero experience, and you knew you had half a decent team and equipment to do so, would you not try to use and learn from the existing horse racing organiser of 210 years?
Would you not use all their resources, human capital and then duplicate the same before you come out and say you will do so yourself?
Yes you should of.
Would you not do that for one or two seasons so your team is ready to challenge the 210 years sole racing organiser?
We would used both the MTC/MTCSL for our future know-how and got revenues from them organising races while we got ready for our coming out.
Well, if we were in their shoes, we would of infiltrated, learnt, acquired all their human capital and resources, used the generating capital from the 2022 and 2023 seasons and only once we have mastered all their 210 years of experience. Only then when the second racetrack would of been ready to open that they would come out with their master plan and showed their true colours.
They would have benefited from revenues from these two racing seasons for your own racecourse, which would of financed all your team and operating costs. And if they were really smart, they would have kept both racecourses, one which you control entirely and one which you keep claiming the 14% betting annual taxes.
Their plan was to challenge and attack the sole horse racing organisation, and scrap them from their licenses, revenues, and now their 20 years racetrack lease, so they can themselves organise races with their inexperienced team.
What a terrible plan.
Instead they used illegal measures to steal their IP's and stole their lease in the name of the law, that they cannot organise and exercise what they have done for 210 years as the 2nd oldest horse racing private club in the world because of the greed of a betting magnate backed by a corrupt government.
For over a month and a half now, we have been on a roller coaster of emotions, the clown show and theater keeps entertaining the angry and hungry horse racing fans which we don't know their limits. All are being put to the test here, the MTC executives, their employees, the trainers and owners in this nightmare situation. Some wants to blame the President Mr Giraud, and others Mr Pilot, while die hards MTC and Champ De Mars, horse racing and stables fans blames the incompetents at the GVT's GRA, HRD and MPL.
How can we forget the incident where the new HRD team was holding the race draws at the GRA all sitting around a table picking the numbers from a paper bag. Well, if that video was still around which was removed by the owner as we can't find it no more to only share for your entertainment or judgement. If this was just one small excusable hiccup, well they have done so many since their arrival in the Champ De Mars that we are starting to loose count. The first week nominations without race name and stake money, plus the wrong rating on a couple of horses, horses equipments missing on the fixtures are all facts and proofs that we are in for a bumpy ride this season. If there is going to be one, we are starting to doubt this possible outcome.
Did the sole horse racing organiser really deserve such severe treatments 

to remain polite

 from the authorities and the new kids on the block? 
Let us remind everyone here what this government and their political nominees have done to horse racing forever. They have refused to issue a horse racing license to the 210 years old private club which have received the Queen of England, Royalties, World Leaders and International Jockeys.
They have refused to meet with the acting CEO and President of the MTC/MTCSL. They came up with all sorts of excuses to not accept the payment from the MTCSL for the 2022 horse racing season, on 4 or 5 occasions. Finally, they removed the Champ de Mars racetrack on ground they don't have a license, when they have a signed lease agreement valid until 2028, a 20 years old lease. Where we do not agree and most horse racing fans, trainers and jockeys will agree as we read all their angry comments online and talk to so many of them is why did they have to disrespect and use such unfair business practices onto the pioneer of horse racing in Mauritius?
You have only contributed to destroying 210 years of history, put in jeopardy a national sport that unites a fragile nation with mixed communities, removed the excitement, and the joy that racing brings to all at the Champ de Mars for what? Your own shortly lived power struggle, personal benefits and pleasures. The 2022 horse racing season could have and would have started without any of these premeditated conspiracies and malicious plans and actions to steal the IP's of the sole horse racing organiser. If this government was truly neutral towards racing and for protecting the gamblers, they would not of favoured a tycoon bookmaker to start with, they would of tried to make things work for all parties, certainly a second racecourse is much needed, certainly they could of build their new racetrack in the next few years and given a second license to their political nominees and entertain only the fools thinking it would be a fair game. We are not saying the MTC/MTCSL plus all trainers, jockeys at the Champ de Mars are all saints here. We know their pasts, some of their crazy conspiracies, we have all heard the rumours, we have all witnessed all the cheating on live TV and last year the death of one of our favourite and brightest jockey N. Juglall. Some were penalised and most got away with murder.
We have all accepted the ups and downs, we have all criticised this president or that trainer or jockey, we all shouted at them when they won or when they faulted, but one thing we cannot let gone and be by gone, is the premeditated destruction of the sole pioneer and horse organisation that built and withheld such national sport for 210 years. That, we cannot allow this, this is not your property, not your legacy, not your club and certainly not your IPs. The MTC is a private club which was created from hard working members for 210 years, who gave up their own jobs to build this club, all the memories and fun racing brought for all for 210 years. This is unacceptable, and all the villains, traitors and criminals must pay to have tried to even destroy the sport that unites a nation, that resonates outside of the shores of Mauritius, which makes all jockeys and fans so proud.
Was it necessary to end racing in Mauritius that way?
It is clear that favouritism for other activities is happening, why keep open markets and shopping malls which often accommodates 10,000 to 30,000 people and they remained opened for two years yet they closed off the Champ De Mars?
Why?
To favour the online betting and the sms betting of your partner? We know we are not stupid.
The obsession of all those who participated in the slow death and execution with the constant tarnishing of the sole horse racing organiser / pioneer and sole club with its public company which created this entire industry will come at a heavy price to pay and bear in all your consciences. You all know who you are. Shame on you. Your legacy is written and will be remembered.
This ongoing legal battle to give the MTC/MTCSL their racing license, even their President Mr Jean Michel Giraud his PML, Personal Management License for 2 years in a row now, after being nominated as the president of the MTC who has still never received his PML from the GRA/HRD is simply unacceptable, unfair and simply a political crimes these political nominees and public servants are doing. So the club's President is allowed to be at the MTC grounds during the week, Monday to Friday but cannot be there on raceday on Saturday and Sunday? In the own club he was elected to be the president? The same refusal to give the PML to the acting CEO of the MTCSL Mr Jerome Pilot, worst they never met with him prior to announcing that the racing season will start on the 23Rd April at Hennessy Hotel. A ridiculous clown show which must end soon.
This is a total disrespect of the MTC club and all their executives and all their members. We see it as an insult to any club President, CEO and all members, who's only defended and represented the club integrity and contributed to this industry and sport. We are not protecting Mr Giraud here, but we are saying that any government institutions which is supposed to regulate racing, which are playing politics and abusing of their given powers to service the industry yet they decide who they receive, which gets what, when they get it or not, and in what conditions they must operate what is unacceptable. All the above is a clear indication where this is heading to: "The cancellation of the 2022 horse racing season and the for-closure (execution) of the MTC/MTCSL.
This is not how a governmental regulator and authority should act. Like the many angry Mauritians, on Facebook are expressing their anger, this island doesn't belong to any political parties, nor their funder or backers nor the very public servants put in place in a regularity position to dictate new and worst change new legislations in their own favour and for they own wealth creation. These are oppressors that are the ones causing all the havocs and headaches for the horse racing industry. All this was premeditated and planned to remove and suffocate the MTC /MTCSL by all means and costs. We fear what Mr Soun Gujadhur said will manifest:
"It is the beginning of the end."
First by not allowing them to get a license, and pay for their license, despite putting 25 conditions which they were forced to accept to save the employees from rioting and loosing their jobs. They now successfully have removed the racetrack by legally claiming that the MTC/MTCSL does not have a license and no racetrack to manage.
So why was the HRD announcing racing will start on the 23rd April for?
A mockery?
A new theatre show in town?
Or simply an organisation not in tuned and in control which has to report to the real head of the game the GRA and their new master?
There is no independent horse racing division, like there is no democracy, your vote nor say does not count here. Only the supreme lord can talk here, the one with money and all those in the need will kneel down before him, even some of the MTC/MTCSL staffs, trainers and traitors of the MTC/MTCSL have capitulated. A club which housed them, nourished their families and this is how it ends. Yes it is a sad day for racing.
All these flaws have already been picked up by international horse racing blogs in South Africa and soon the world horse racing will follow onto this scandal.
Here is one article –
https://www.formgrids.info/c_racing-news-item.aspx?item=2022-05-03+12%3a25%3a59
We know that there is a second horse racing organiser waiting to be delivered the Champ De Mars track on a platter, there are rumours, even new racecourses drawings circulating how the new Champ De Mars will be soon they say, even some of the MTC/MTCSL staffs were openly outspoken at an urgent meeting about where where their next studios should be. But all these new facilities inside the Champ De Mars and infrastructures takes a hell lot of time to build. It takes planning, coordination and before all that actually happens, and becomes reality we are talking years and billions in cost.
Was it necessary to pull the MTC/MTCSL from organising the 2022 season to satisfy the greed of the ones in power?
Was it necessary to remove the racetrack from the sole racing organiser with 210 years of racing, steal their IP's and demand that their infrastructure and equipment are used by the HRD without compensation?
Was it necessary to put on hold for the second year the horse racing season and put its entire industry on its knees, and its future on the verge of collapsing?
Or will you have the entire racing season cancelled altogether, because of your illegal and greedy actions?
Rumours are spreading fast, and this is what this country habitants are driven and fulled by, rumours, heard this form such and such, they practice back stabbing as a national sport here, that happens in inner circles too. Even inside the MTC/MTCSL, and now from our own government authorities and division, their latest creation the HRD independent they say. But only a blind will not see, that it is driven by the betting tycoon who received the HRD CEO Mr Wood on his own media temple TV show so he can share his first impressions and views on the sitataution which did not favor his independency but rather backed fired.
Independent you say?
A communication suicide and the worst place to come introduce yourself to the Mauritius Horse Racing fans. All these embarrassing, irritating and the incriminating facts which occurred last month and this week further indicates that the GRA/HRD are working openly to favor the second horse racing organiser, literally using all the dirtiest trick in the book, using unfair and even abusing powers which are against the very rules they are supposed to withheld and are there to protect the horse racing organiser, the gamblers and all stahokders, yet they are using a favouritism and political game to help their new partners in crime.
Let's remain on the Champ De Mars issue, now that the MPL has taken back the racetrack.
What next?
Will we accept that a new bunch of amateurs, and incompetents in total disrespect with the hierarchy at the MTC/MTCSL who clearly are coming steal their IP's and use their property free of charge will run the show?
Will the Mauritian Horse Racing fans be even allowed back at the Champs de Mars to watch racing with a cold beer again from the rooftop of the Champ De Mars or eat a yummy hot dal pouri and allow families to bring their kids come watch races and support their stable?
Do we need to ask permission at all?
Or should we all meet there and not comply just like the thousands of us are now enjoying the beach just like the tourists which comes here yet they have a better treatment than the residents.
People should plan come the first meeting to having their picnics at the Champ De Mars, and MTC members also should flog into the Champs De Mars loges and come enjoy the races just like concerts are happening and beach bars are opened since the beginning of the year.
This is part of our history and country's major entertainment for all Mauritians and for all foreigners visiting our island. We must not let then destroy such an iconic place by all means necessary.
Do they realise the impact this will have on our GDP and worst on our social lives each weekend?
Do they realise that horse racing helps 500,000 + families stay entertained and for some helps make ends meet, each place accumulator, quartet, trifecta, pick4, pick6, pick8 won each weekend brings joy to most already in financial difficulties?
We must all stand up and help the MTC/MTCSL reopen the Champ De Mars with immediate effect, so we help them fight to remain open and hold onto their property, legacy, IP's, equipments, which is their given right to exercise and organise horse racing like they have for 210 years. We must demand that to the public servants. We are the one who gives them these powers and not them.
When did we in 210 years have any complications like this before?
Never.
Will we accept that a GVT's organisations and division, our public servants force us into their new international racetrack plan, in bed clearly with the betting tycoon, who is doing everything he can to kill the 210 years of racing and the sole racing organiser with experience and how can pull this off.
Will the horse racing fans accept watching racing behind closed doors again this 2022?
Will they even allow racing to start with all this unacceptable conditions?
Last month Aintree Grand National was a sell out, no masks, no social distancing where punters enjoyed an outsider to come upset the favourites in the last few meters.
Photo courtesy –
https://www.skysports.com/racing/news/12426/12582282/grand-national-a-guide-to-picking-the-aintree-winner-from-the-field-of-40-horses-in-the-worlds-most-famous-race
Last week was held the 148th US Kentucky Derby and same thing, a sold out crowd and an 80/1 outsider upset the results.
Photo courtesy –
https://www.nytimes.com/live/2022/05/07/sports/kentucky-derby-horse-race
The very sport they are supposed to promote and regulate is now under threat, an entire industry is at the mercy of un-experienced authorities and a greedy betting magnate.
What could go wrong in a normal world?
Let us describe the best outcomes for all parties here:
1- The GRA/HRD/and the boss of SMS PARIAZ & MTC/MTCSL works things out we have races at Champs de Mars. Who owns what, does what, gets whats we shall never know all the details. But the outcome for all Mauritians are happy races are on held at their favourite racecourse and all pan outs. The MTC will have to re-invent itself as an hospitality event organiser.
2- The GRA/HDR with the new racing organiser The Peoples Turf with the backing of SMS PARIAZ offer the MTC/MTCSL a fee to use their facilities, which they pay and MTC moves out of their 210 years old headquarters. A possible outcome and revenue stream for the MTC/MTCSL.
4- The Peoples Turf with their advisor SMS PARIAZ only wants the racetrack and start working on all their new infrastructure inside the Champ De Mars and the MTC / MTCSL can only host their members and visitors each week, both have to work in hand on the new given Race Calendar and Fixtures done by GRA/HRD. Stake money is given by them while the MTC/MTCSL is stepped aside altogether and watch the new operator and the new show.
5- The last resort is that the GRA/HRD uses a "Compulsory Requisition" which is a never ending legal battle and war between the MTC/MTCSL vs GRA/HRD/MPL, or MTC/MTCSL chooses to close access to the their grounds at the Champ De Mars until courts decides and the 2022 season or more seasons are compromised. A situation we all do not want to happen.
Couldn't they have all met around a table and discussed the issues, the solutions and the new plans of the GVT with the GRA/HRD, with the trainers and worked our on their new racetrack and shared all the possible outcomes and to have allowed the MTC/MTCSL to continue organising racing until their second racetrack is operational?
This outcome would have been more commercially viable for all stakeholders, all would have worked in hand but that is on a normal world. We are no longer living in a normal times these days. All these actions were all premeditated behind closed doors to only tarnish and erase the sole horse racing organiser the MTC/MTCSL.
Mauritian horse racing fans knows very well what is the real story, and those in the know will confirm everything we are saying, because we stand to report only but the truth.
The Mauritius horse racing scenery and landscape has forever changed, and will never be the same. To be part of the death of this once prestigious MTC/MTCSL for a better salaries may not be the satisfaction you will have when they will ask you to fake your own work and reports with your name on it, or cover up another future anti doping scandal. We can say with certainty that this is what will happen. Racing is now in the hands of the mafia who owns 80 horses, who places them in 7 out of the 16 stables, he decides which are the odds, the riders, the winners, and who must win and this is how it is.
The promises of a greener grass are only speculations that a betting magnate can only promise to all stakeholders. Will he be able to finance the new infrastructures inside the Champs De Mars or will he compulsory acquire the MTC/MTCSL existing infrastructures or will build new ones inside after they have now repossessed the Champ De Mars racetrack?
Or will we have to wait for the latest Côte-d'Or International Racecourse and Entertainment Complex, a new company Ltd which was registered under the Ministry of Finance will ever become a reality or his own training grounds at Petit Gamin.
What is worth sharing, is who are the Directors of this new GVT/ Private company, according to a document from the Registrar of Companies, the company is involved in the "Development of building projects for sale Land Promoter and Property developer".
Eight directors and a secretary are at the head of this company, among Rajkumar Baungally, Kreedeo Beekharry (Head of the GRA), Louis Patrice Sébastien Diolle, Goolabchund Goburdhun, Naila Kishani Hanoomanjee, Kalianee Kautick, Dharamraz Mohabeer, Javed Sohail Ahlaq Ahmad Suhootoorah with Prime Partners Ltd.
Again, how can they claim to be independent when the very head of the GRA which the HRD division falls under his responsibility, how can he be the director of a private company, with the Ministry of Finance as their address which will build the next racecourse in Mauritius?
How can there not be a conflict of interest here, when the very head of the Gambling Regulatory Authority is now a director of the new horse racing complex at Cote d'Or?
Why would they not include the MTC/MTCSL?
The answer is quite clear, they want to erase the MTC/MTCSL and 210 years of racing. They want the entire industry for themselves.
Will we ever see this project come to fruition, or is it another failed born project which costed billions to make and enriched only their founders and the racecourse builders and designers?
We do support and believe that we need to create a new horse racing complex. It is a great idea and it is much needed, but why remove the pioneer of horse racing in this new project?
Why no-one is consulting them?
It seams, they have no code of conduct, they are about to steal in front of the eyes of all Mauritians and all the MTC members a 210 years old private club for their own profit, and benefits.
Or were they simply showing their power to ousting the sole horse racing organiser the MTC/MTCSL out of their own property and back yard to show us all their incompetence at organising racing or we will all discover their competence at fixing racing?
Well we shall see if history repeats itself and how docile the Mauritians are if the Compulsory Acquisition is done on this private horse club, who's next?
After 3 or 4 doses of the CovAids vaccine we are not sure they will do much about it. Business as usual in Mauritius Island. This sad state of affairs, will echo and be heard all around the racing world, we will make sure of that. We are professionals at marketing and viral digital marketing. Rest in peace MTC/MTCSL and Champ De Mars.
So, what next now, is the main question?  
Will they be able to start this 2022 racing season?
Unlikely.
Will they be able to operate horse racing without the MTC/MTCSL and all their infrastructures and equipments without paying any fees, especially now without giving them a license to operate?
The answer is no.
Let us predict what will happen to the greed of these people in charge?
You will fail miserably, you will have all earned your legacy to hold the burden of the destruction 210 years of horse racing in your fight to so called regulate and make racing safe and cleaner for all. We call that bullshit. You are profiteering from your public servants short lived powers to setup your short lived operations. As if we the horse acing fans are too dumb to not see this hostile take other and BAI bis repetita on the MTC/MTCSL and the Champ De Mars.
The message here is clear, this government with all their political nominees which are backed by the biggest betting tycoon who the Prime Minister of this country gave carte blanche, to steal 210 years of racing, use the MTC/MTCSL IP's, their Rules of Racing, and are trying to use force a "Compulsory Requisition" for free use for all their infrastructures and equipments, who have successfully cancelled a 20 years lease without damages or repercussions for now but challenged under protest.
Let's see where all this ends up.
We know where it will end up.
It will end up in the for-closure of the MTC grounds, them re-possessing their equipments and not allowing the HRD nor the GRA to operate on their private property. This will lead to the end of the fun horse racing days we all lived and loved so much.
Where we are all right as of now?
Well, you nor your kids, nor your foreign friends or tourists will ever be able to experience the vibrant horse racing that the Champ De Mars once was. This thought alone is terrible.
Can you even imagine such a sad thought and vision?
How long they will the Mauritians people accept such sickening practices from these public servants.
How will the global horse racing world sees all this hostile situation?
Do they actually believe they will increase foreign investors when you purposely crashing your own most popular national sport and partners and will claim it is yours.
They will come as the saviour of the horse racing in Mauritius with your new projects and plans?
No, you won't be seen as any saviour here, you will all be remembered has the traitors to a national sport and to all Mauritians to have premeditated this entire conspiracy which many of the MTC employees and even some board of directors have their hands wet in the killing of the MTC/MTCSL. Shame on you and shame to have suspended the very best journalist you have working for you for revealing the ugly truth.
So we are clear here, we don't work for the MTC/MTCSL, we don't work for the GRA/HDR and the GVT obviously, and we certainly don't work for any betting magnate. We only work for the good of Mauritius Horse Racing industry and will stand by our values to report the truth.
All stakeholders had a chance to come forward and help to support the sport we love and all are failing to find the right solutions proposed ahead of these challenges. The sad states of affairs at the MTC/MTCSL is theirs to sort out, but we will cut this in the middle of the bad apple when we see or taste one.
Conclusion:
Races in Mauritius will never be the same like we have experienced it before.
Say thanks the MSM, GRA, HRD, SMS PARIAZ, MTC/MTCSL who change ship, you all have successfully killed 210 years of history and forever tarnished horse racing in Mauritius.
"Greed begets greed and only leads to trouble in life."
Horse racing will never be the same, just like the empty and broken down football stadiums around the island, which once was jammed packed with fans and supporters. The same fate will happen to horse racing in Mauritius.
We should all demand that race in closed circuit in camera view only is banned and races starts as normal. Your hypocrisy with your Covid 19 sanitaries protocols which you all violate everyday and use for your own profit and to control the population is blatantly an insult and a treasonous act towards our people and our nation.
One minute our dear PM in India is walking with crowds, shaking hands, on stage in a jammed packed without mask, next minute he is taking selfies in a private plane without mask, and when he returns home, you wear one in front of the cameras and inside parliament each next week.
Are them mask stocks still too high and must be all sold before the virus is finally described as a total hoax, like them poison vaccines which are the real virus and are now held to only have a 7 days efficacies like studies are showing after two years?
How long will you be able to fool the many still ignorants?
Will you continue to make all the Mauritian people suffer while you and your government openly violates each rule in the Constitution.
Will the Mauritian people let this greedy bookmaker with his ass licking political nominees and partners in crime continue to enjoy their short lived success in racing?
Because unlike his media temple staffs, we do not see any success ahead, nor any joy what-so-ever in racing like their eyes glows of a new infrastructures inside the racetrack at the Champ De Mars
What they are trying to achieve and this include the complicity of the GRA/HDR and the municipality of Port Louis, which are all on their way out come next election and do not think for a minute that come next election your fake voting mailing boxes from India, and you are not on the list to vote will work a second time, the population knows very well, these political cheats, and are all chanting they don't want a dictator each time they can protest and riot which is becoming popular in Mauritius. The next one might be the last one for your government to step down just like the Pakistan PM was forced to.
We live in one of the most corrupt country in the world, but when a government and its public servants premeditated and work together with a betting magnate to kill the sole horse racing organiser with 210 years of experience, we are in big trouble.
You cannot buy 210 years of horse racing knowhow and worst you cannot try tarnish their already earned legacy as one, on the contrary, you should have been a lot more smarter, you should have partnered, and tried preserve the MTC and Champ De Mars so you had more revenues from two racecourses.
This is how a prosperous and caring government should do things, but not in Mauritius, they prefer to bend the laws, rewrite them if needs be, and steal the IP's and the properties of others.
They are incapable to create, innovate, to prosper and share for the common good of the Mauritian people. They can only progress by means of stealing, violating all the hard working human God given rights to all provide for their family and protect their property, and the Constitution is worth as less as piece of toilet paper which they wipe their arses with.
We are dealing with a bunch of criminals smiling under the symbol of the sun, who's loyal accomplice are all remunerated with the highest position in government to not respect the law, but to amend it when it suits them and to bend it when they can. Welcome to our democracy, another illusion sold to the fools.
So what next?
The GRA/ HRD team will allow The People Turf the second horse racing organiser to use the Champ De Mars racetrack?
So they all form a happy new family and organise race meetings as they will and ask the MTC/MTCSL to provide their infrastructure and equipments for free, perhaps?
Or will they build overnight all the infrastructures inside the Champs De Mars with 100,000 Chineses or Bangladeshis so they can organise and arrange racing by drawing the race meetings lines in paper bag each weeks?
As far as we know we are now the new laughing stock of the global horse racing world. Thanks to this government and the gambling regulatory authority and horse racing division.
Will they force illegally the MTC/MTCSL to provide their equipment and infrastructure to organise races?
We foresee that event happening anytime soon has there is no limit to their power grab, we've seen it happen before.
Who will loose at the end?
Well, all the Mauritians and the tourists visiting this iconic Champ De Mars, but predominantly the Government, the horseracing owners and the betting industry will all be the biggest losers if customer confidence falls and it has fallen very low.
We are at the cross roads, will Horse Racing survive this and unite this island, or will see the death of this number one national sport for the greed of a few.
More shocking news to come as more events unfolds.